OSKALOOSA — The status of the 2020 drought worsened this week, with nearly the entire state now under some sort of drought classification.
Most of the Herald's coverage area in Mahaska and Marion counties worsened this week. The U.S. Drought Monitor's latest report on Thursday considers both counties in a moderate drought.
For most areas of the Herald readership area, that's an increase from the abnormally dry status seen a week ago.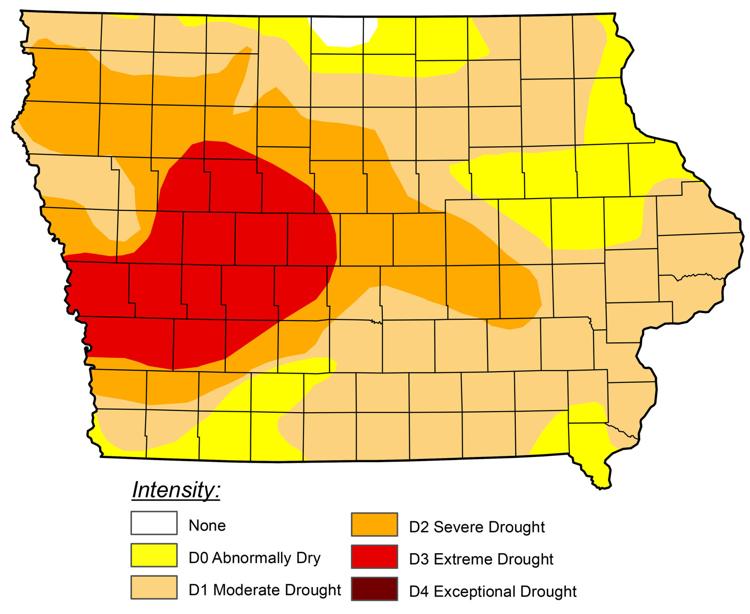 Only a small area in north-central Iowa does not currently have some level of classification by the U.S. Drought Monitor, which released its latest report Thursday. The report states that 99.4% of the state is at least abnormally dry.
The worst conditions persist in west-central Iowa, where the area of extreme drought expanded to include all or parts of 19 counties. The area accounts for about 14.6% of the state.
The Thursday report would not include rainfall since Tuesday, though there's not been considerable rainfall in the area since then.
Mahaska County received about one-tenth an inch of rain between Tuesday and Wednesday. The Knoxville Airport recorded just a trace.
Across the Herald coverage area, rainfall for Aug. 4-Sept. 2 was between 3 and 4 inches less than the historic normal.
Long-range forecasts by the National Oceanic and Atmospheric Administration suggest a cooler than normal start to September, and there's a slight probability of above-normal precipitation in the outlooks. The outlook turns to dryer conditions later in the month, however.
There's a slight chance of rain Saturday night and Sunday, according to a forecast by the National Weather Service for Oskaloosa. Less than a quarter-inch is currently anticipated, however.
In the extended forecast, there are some rain chances included for the start of next week.
Combined with the derecho, the drought is dealing a significant blow to the state's crop.
The USDA reports that just 45% of the state's corn crop is in good or excellent condition, the lowest since October 2013. Fifty percent of the state's soybeans are good or excellent, the lowest this season.